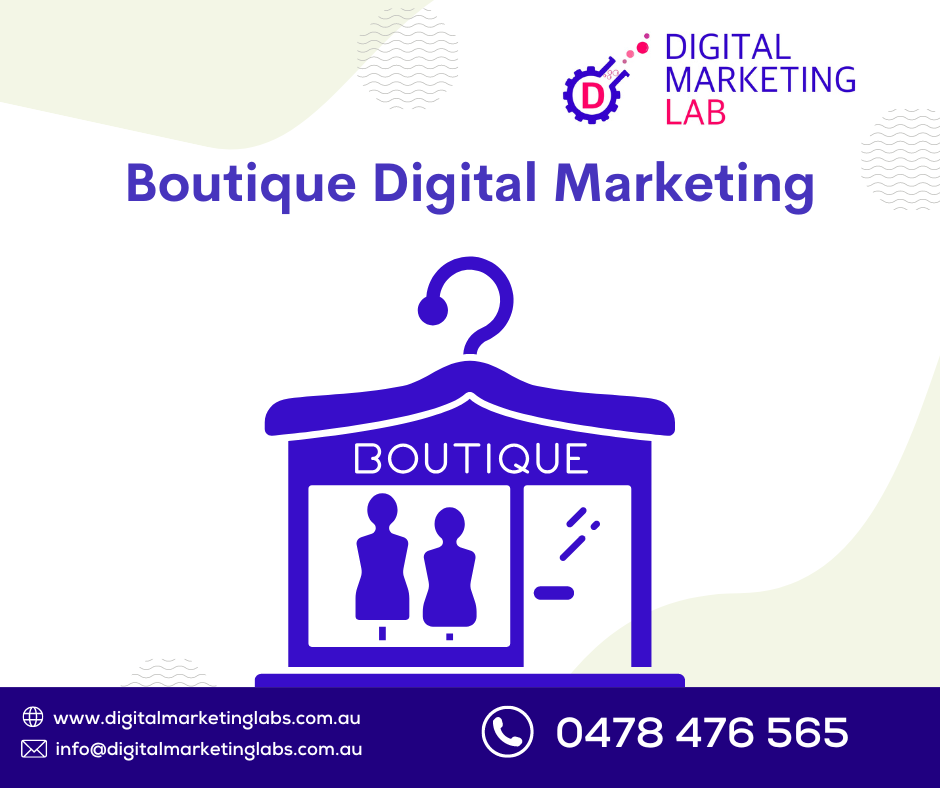 Introduction
In today's fast-paced digital world, having a strong online presence is vital for businesses, especially for small and local boutiques. With the rise of e-commerce and the increasing use of mobile devices, the competition for customers is higher than ever. This is where a boutique digital marketing agency in Melbourne can make all the difference.
Boutique digital marketing agencies specialise in providing tailored marketing solutions for small and medium-sized businesses. Unlike large marketing agencies that focus on big brands and corporations, boutique agencies focus on building personal relationships with their clients and delivering customized, results-driven marketing campaigns.
What is Digital Marketing Lab and How Can They Help Boutiques in Melbourne?
Digital Marketing Lab is a boutique digital marketing agency based in Wagga Wagga but providing services in all the cities of Australia such as Melbourne, Sydney, Brisbane and all, that helps small and local businesses grow their online presence through a range of digital marketing services. From search engine optimisation (SEO) and social media marketing to email marketing and pay-per-click (PPC) advertising, Digital Marketing Lab provides everything a boutique in needs to succeed in the digital space.
Here are a few ways in which Digital Marketing Lab can help boutiques in Melbourne with their digital marketing:
Tailored Marketing Strategies: The team at Digital Marketing Lab understands that each boutique is unique and has different marketing needs. They work closely with clients to understand their target audience, brand identity, and business goals, and develop a tailored marketing strategy that meets those needs.
Data-Driven Approaches: Digital Marketing Lab leverages data and analytics to inform their marketing decisions and track the success of their campaigns. This data-driven approach helps them to constantly refine and improve their strategies, ensuring that their clients get the best possible return on their marketing investment.
Industry Expertise: The team at Digital Marketing Lab has years of experience working in the digital marketing industry and staying up-to-date with the latest trends and techniques. This expertise allows them to provide their clients with cutting-edge marketing solutions that deliver results.
Strategies for Boutique Digital Marketing
SEO: Search engine optimization (SEO) is one of the most important aspects of digital marketing for boutiques in Melbourne. SEO involves optimizing your website and its content to rank higher in search engine results pages (SERPs) and attract more organic traffic. Digital Marketing Lab can help you optimize your website for relevant keywords, improve your website's user experience, and create high-quality content that engages your target audience.
Social Media Marketing: Social media platforms such as Facebook, Instagram, and Twitter are powerful marketing tools for boutiques. Digital Marketing Lab can help you create engaging social media content, build a strong online presence, and reach your target audience through social media advertising.
Email Marketing: Email marketing is a cost-effective way to reach your target audience and build relationships with your customers. Digital Marketing Lab can help you create engaging email campaigns that drive conversions and build customer loyalty.
PPC Advertising: Pay-per-click (PPC) advertising is a quick and efficient way to drive targeted traffic to your website and generate leads. Digital Marketing Lab can help you develop and execute effective PPC campaigns that reach your target audience and deliver results.
Conclusion
A boutique digital marketing agency in Melbourne like Digital Marketing Lab can help boutiques succeed in the digital space. By providing tailored marketing strategies, data-driven approaches, and industry expertise, Digital Marketing Lab helps their clients build a strong online presence, reach their target audience, and grow their business. Whether you're looking to optimize your website for search engines, build your social media presence, or run effective